Make your screen come alive!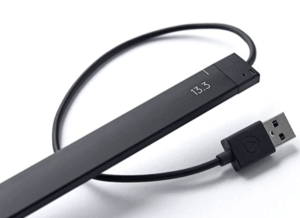 What's the size of your notebook? Actually the sample you've seen above is just one of the sizes, you can also select bigger sizes from 13.3 up to 15.6. Once you click the amazon link you will be redirected to the amazon.com page for more of your choices. But prices may vary according to sizes that will fit to your notebooks.

How do you measure the screen size?
You probably know it already but if you want to make sure just measure the length of the diagonal from bottom left to top right or top left to bottom right. Works both ways! For more guides in measure please see the picture demonstration below.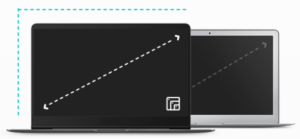 Position for precision
Every AirBar sensor has two vertical lines that should line up with the left and right edges of the screen. There are magnetic stickers affixed to the AirBar sensor out of the box. Follow the instructions included to get your sensor correctly mounted. And don't worry, it's really easy.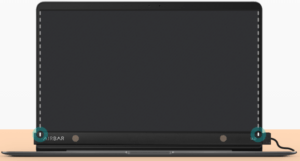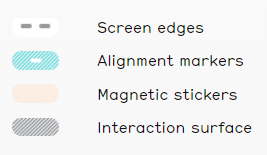 Product Overview and Features
Style: AirBar By Neonode For Windows 10
Cheapest Place To Buy: Amazon.com
Size: 13.3 Inches
Operating System MS Windows 10
Item Weight 1.8 ounces
Product Dimensions 325 x 5 x 17 inches
Item Dimensions LxWxH 325 x 5 x 17 inches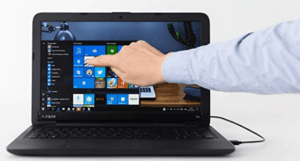 Plug and Touch – Simply attach the AirBar with the included magnets to the bottom of your screen and plug in the USB cordCompatibility – AirBar works with most notebooks running Windows10 with 13.3″ screen size
Touch Using Any Object – Touch with a finger, glove, paintbrush, stylus and more
Designed for Windows 10 Laptops
Gestures: Tap, Swipe, Pinch, Zoom, and Rotate
Note: Refer the Instructional Video before use.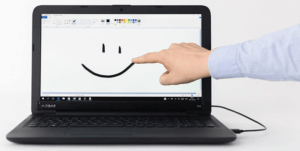 Product description
Size:13.3″ | Style: Win
Product Description
AirBar gives your non-touch Windows 10 notebook touchscreen functionalities. The sleek, lightweight device emits an invisible light field over a laptop screen that senses your finger touch.
AirBar will allow you to experience the best of Windows 10 by simply attaching it to the bottom of your laptop bezel with the magnets provided, and plugging it into the USB port.
You will be able to tap, pinch, zoom, sweep and rotate instantly. AirBar for Windows 10 laptops will work out of the box not require any software or driver downloads. We call this "Plug-and-Touch".

With AirBar attached to your non-touch Windows 10 laptop, you will be able to sweep through music, images and video files, scroll whilst web browsing, or highlight text and paragraphs in your Word, and PDF documents, or pinch, zoom, rotate in your maps, and photos.
You can also simply select an app on your desktop or taskbar, a hyperlink or use it to intuitively access functions in Windows 10 that you would not have otherwise, such as edge-swipes.
AirBar will make using your existing laptop fun again, and increase your productivity. Many people instinctively touch their laptop screens to select something, but realize it's not a touchscreen. Well now AirBar is your answer.
AirBar is ONLY recommended to work with laptops running Windows 10, and ONLY for laptops sizes 13.3″, 14″ and 15.6″ so you must choose the RIGHT SIZE for your laptop. AirBar for Windows 10 is NOT intended for monitors, or MacBook notebooks.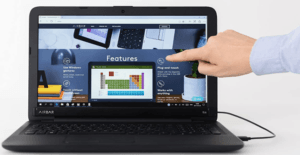 Please read system requirements before making a purchase.
Set Contains:
– AirBar touchscreen sensor with USB cord for 13.3" Windows 10 notebooks – Magnets for attaching the AirBar sensor
Product information
Size:13.3″ | Style:Win
Technical Details
Collapse all
Other Technical Details
Brand AirBar by Neonode
Series AirBar for 13.3″ Windows 10 Notebooks
Item model number NNABC2950XU01
Hardware Platform Microsoft Windows 10
Color Matt Black
Manufacturer Neonode
ASIN B06WWQ3FRK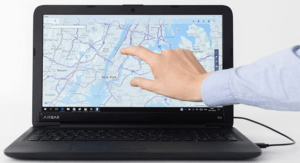 Additional Information
Customer Reviews 3.8 out of 5 stars 609 ratings
3.8 out of 5 stars
Best Sellers Rank #54,923 in Tablet Accessories
Warranty & Support
Amazon.com Return Policy: You may return any new computer purchased from Amazon.com that is "dead on arrival," arrives in damaged condition, or is still in unopened boxes, for a full refund within 30 days of purchase. Amazon.com reserves the right to test "dead on arrival" returns and impose a customer fee equal to 15 percent of the product sales price if the customer misrepresents the condition of the product. Any returned computer that is damaged through customer misuse, is missing parts, or is in unsalable condition due to customer tampering will result in the customer being charged a higher restocking fee based on the condition of the product. Amazon.com will not accept returns of any desktop or notebook computer more than 30 days after you receive the shipment. New, used, and refurbished products purchased from Marketplace vendors are subject to the returns policy of the individual vendor.
Click this link to order the item and to visit the amazon.com site for the updated price.
If you have any questions or comments please feel free to write them below and I will be more than happy to hear it.
Francisco,
Founder of Spectacular Website or https://myelectronicsandaccessories.com