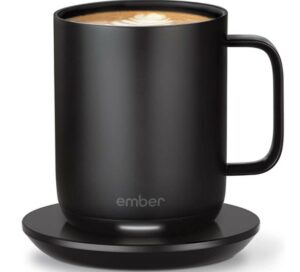 Ember Temperature Control Smart Mug 2, 10 oz, Black
1.5-hr Battery Life – App Controlled Heated Coffee Mug – Improved Design
Ember, The World's First Temperature Control Mug, is a design led temperature control brand and technology platform, whose mission is to revolutionize the way people eat, drink and live. Founded by inventor and serial entrepreneur Clay Alexander, Ember creates, designs and develops temperature control products that offer people complete customization. The award-winning Ember Travel Mug and Ember Mug are the most advanced coffee mugs on the market, allowing you to set and maintain your preferred drinking temperature for hot beverages.
Material Other
Color Black
Brand Ember
Item Weight 255 Grams
Capacity 10 Fluid Ounces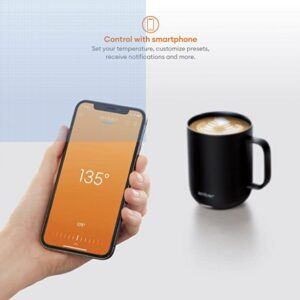 Control with smartphone
Set your temperature, customize presets, receive notifications and more.
LONGER LASTING BATTERY: Extended battery life on your temperature control mug keeps your drink perfectly hot for up to 1.5 hours on a full charge or all day on the newly redesigned charging coaster. Choose the exact temperature you prefer (between 120°F – 145°F).
APP CONTROLLED: Ember smart mug allows you to control with your smartphone. Pair with the Ember app to set your temperature, customize presets, receive notifications and more.
USE WITHOUT APP: Ember Mug is functional without connection to the app and will remember last used temperature. Out of the box, the Ember Mug is set to 135°F.
AUTO SLEEP: Ember heated mug intelligently senses when to turn on and off. The mug enters sleep mode when empty or after 2 hours of inactivity. Ember wakes up when it senses movement or liquid.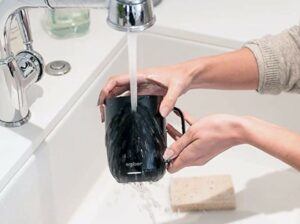 Safe to hand wash
Ember Mug 2 is IPX7 rated and fully submersible up to 1 meter deep.
HAND WASH ONLY: An updated scratch-resistant ceramic coating is safe to hand wash. Ember Mug 2 is IPX7 rated and fully submersible up to 1 meter deep.
EXTENDED BATTERY LIFE: Pour in hot liquid to extend and maximize battery life.
INCLUDED WITH MUG: Charging coaster, adapter, and quick start guide.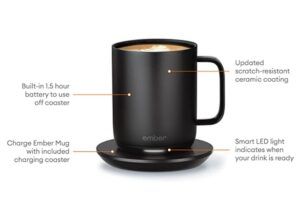 NEED HELP: Go to Ember's brand site and click SUPPORT for FAQs and to speak with Customer Support.
Ember Technologies is the only approved seller for Ember products sold on Amazon.
Ember's 1 year promise and 30-day return applies only for purchases "Sold By" Ember Technologies on Amazon.
The Ember Mug 2 Temperature-Controlled Cups keeps your hot drinks hot all winter long. This smart coffee cup allows you to set your preferred drink temperature through the connected app. That way, you can enjoy your hot coffee or cocoa for much longer. And if you leave this mug on its coaster, your drink will stay warm all day. Finally, it's available in both 10- and 14-ounce sizes.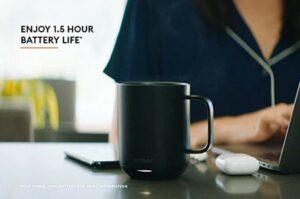 Auto sleep
Ember intelligently wakes up when hot liquid is poured in and enters sleep mode when not in use.
Public's Common Questions About This Product.
Is Ember mug hot enough?
Limited Heat Range. You would think that the Ember would be able to keep drinks at whatever temperature you want but this isn't the case. Ember is all about keeping your drinks at the right drinking temperature and for them I guess they have decided this is 120-145ºF (49-62.5ºC).
How long does it stay hot?
Our smart mug allows you to set an exact drinking temperature, so your coffee is never too hot, or too cold. Ember then maintains your chosen temperature for up to 1.5 hours with the Ember Mug² 10 oz and up to 80 minutes with the Ember Mug² 14 oz – so your hot beverage stays perfect.
How long does ember mug battery last?
When using your Ember Mug² without the charging coaster, you can expect a battery life of about 1.5 hours with the Ember Mug, 10 oz or 80 minutes with the Ember Mug, 14 oz, at a target temperature of about 135°F (57°C).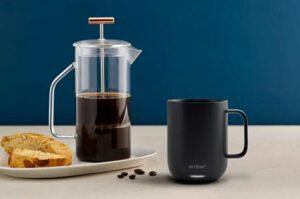 How does Ember smart mug work?
And automatically detects when you put liquid in it and works best when you start with the liquid. Already very hot with the included AB you create a default temperature you want the mug to maintain.
Will Ember heat up cold coffee?
You CANNOT use Ember to heat up cold coffee, tea or other drinks. The cup won't recognize liquid under 100ºF (38ºC) and won't turn on. Plus even if it did it takes AGES (30-60+ minutes) to warm up cold drinks and will drain all the battery life of your Ember. It's designed to keep drinks hot, not make them hot.
Can you microwave Ember mug?
From Ember Support site: No! As with all electronics and metals, it may result in a fire when heated up in the microwave. Doing so will result in permanent damage to your Ember Mug or Ember Mug².
What is the difference between Ember and Ember 2?
The new Ember Mug 2 has an improved battery life by up to 50%. Instead of just 1 hour of battery life you get 1.5 hours (or 80 minutes on the 40 oz. size). It's not a gigantic change but it gives you an extra half an hour to drink your coffee while in a meeting or while on the go and often that's all you really need.
Francisco,
Founder of Francisco's Spectacular Website